Admissions
Longthorpe Primary School provides for the needs of children within the 4 to 11 age range with Peterborough Keys Academies Trust (PKAT) as its admissions authority. The agreed admissions number for class groups is 30, with the overall school total being 420 pupils (2 form entry). These totals may only be exceeded if particular circumstances arise.
The first priority is given to looked after children, a verified medical need relating to a child, children living within the catchment area and siblings.
For further information please click on the links below:
PCC Guide to School Admissions - September 2024
Admissions Arrangements 2023-2024 V1.0
Admissions Arrangements 2024-2025 V1.1
The Admissions Arrangements for 2025 are currently under consultation. Please view the relevant policy below and contact EStephens-Dunn@pkat.co.uk if you wish to be involved in the consultation or for further information.
Admissions Arrangements 2025-2026 V1.2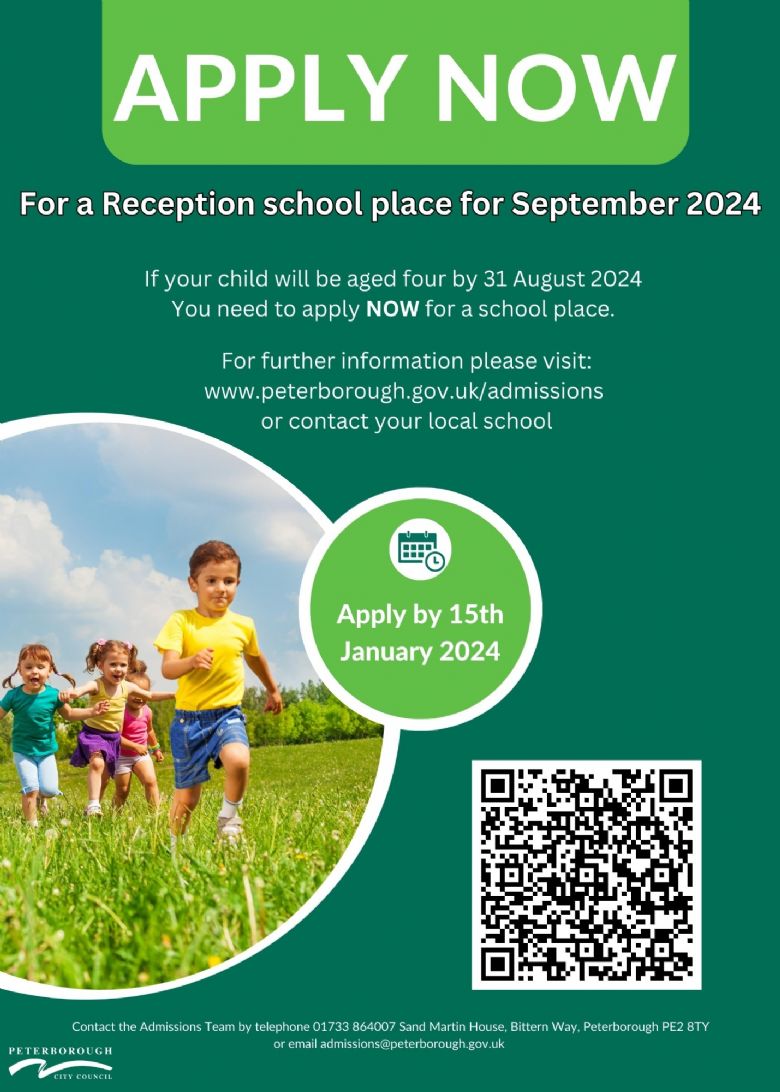 Reception Open events for admission September 2024
We will be holding events for prospective Reception starters on the following dates:
Thursday 9th November 1.30pm
Thursday 23rd November 5.30pm
Please click on the following link to book your place on one of our events: Reception Intake Open Events Booking Form
How to Apply
For all admissions, parents should apply using the Local Authority's Online Portal. Application forms must be completed and returned direct to the City Council
For further information, please visit the PCC Admissions website.
To apply, please click here
Appeals Procedure
We strongly advise that prior to submitting an admissions appeal you read the school's oversubscription criteria. The Local Authority manage our appeals and will prepare guidance for parents and relevant children about how the appeals process will work and a named contact who can answer any inquiries parents may have about the process.
An Independent Appeal Panel meets to consider appeals from parents/carers who are unhappy with their school allocation.
For further information on how to appeal and the appeal timetable please click here.
PUPILS WITH SEN OR DISABILITIES
Normal admission arrangements will be followed for pupils with 'SEN or Disabilities'
We endeavour to be a fully inclusive school.
All our children will be treated according to their needs in line with the school's Public Sector Equality Statement. No pupil will be denied admission because of gender, creed, race, physical ability or academic achievement.
We will take all steps possible to provide effective educational provision. Where a pupil has a particular need e.g. wheelchair access, we will ensure that reasonable adjustments are made for that pupil's need to be fully met. Please refer to the school's Accessibility Plan.
If a pupil is transferring into the school with an Educational Health Care Plan or has been in receipt of extra support from LA centrally funded resources in their previous setting, continuation of this support will be negotiated with the appropriate member of the LA, to ensure that needs can be met.
Reception (Foundation Stage) Intake Procedure
At Longthorpe Primary we undertake a gentle process of helping your child adjust to school life so that it is as happy and calm as possible. The children are divided into two groups and each group starts school on a part-time basis, attending either the morning or afternoon session. This gives the Reception (Foundation Stage) staff time to be with the children, spend time helping them to adjust to their new situation and to assess their stages of development.
As each group settles, the children are invited to stay for lunch. This can be a very distressing time for some children, overwhelmed by the number of children who eat their dinners in the school hall. Teaching staff stay with the children to reassure them. After a short time, children start full-time (provided that they are ready). The majority of children are in full-time attendance before the October half-term.
In Year Admissions
Children often start school at times other than Reception (Foundation Stage) or beginning of the academic year. In the event of this happening with your child, every effort is made to make you and your family welcome and to make the transition to the new environment as smooth as possible. Please contact the school if you have any anxieties about your child.